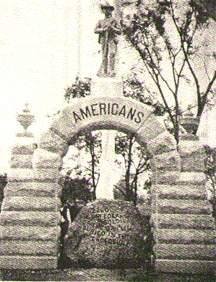 William Knauss enlisted in Co. G, 2nd New Jersey Volunteers in May of 1861. At the battle of Fredericksburg, Virginia he was wounded in the head by a two inch piece of shell. He recovered but carried a deep scar the rest of his life.
After the war he moved to Columbus, Ohio. In his travels he discovered the overgrown Camp Chase Cemetery located on Sullivant Avenue. He felt this was a disgrace to the men who had fought on both sides of the war. The 2,260 Confederate soldiers buried there deserved better, so he decided to correct the situation.
He hired people to help clean up, erect gateposts, and plant flowers and trees. Each Memorial Day he organized memorial services for the Southerners. He used his own money for these projects, and also wrote a book called The Story of Camp Chase.
At the 1902 memorial service, Governor Nash was a speaker and William Knauss was Master of Ceremonies. Knauss and his daughter helped the Daughters of the Confederacy unveil the new monument that is lettered simply "AMERICANS".
William H. Knauss