Colonel James Culbertson McCoy
Aide-de-Camp to General William T. Sherman

James C. McCoy was born January 18, 1827 in Franklinton (Columbus), Ohio. He was employed by his uncle as a merchant at the corner of State and High Streets.
He mustered into the Army for the suppression of the rebellion, September 28, 1861 at Camp Dennison, Ohio. He was commissioned 1st Lt. of Volunteers and Adjutant of the 54th Ohio Infantry, Company G.
March 14, 1862, McCoy was appointed Aide-de-Camp to General William T. Sherman., and was promoted to Captain by President Lincoln. During the battle of Pittsburg Landing, he was seriously wounded. He returned to Sherman's 15th Army Corp. and fought at Corinth, Shiloh, Vicksburg, and Jackson, Mississippi.
October 6, 1863 President Lincoln confirmed McCoy's appointment to Major. He continued as General Sherman's Aide-de-Camp, serving at Atlanta, the March to the Sea, and General Johnston's surrender at Durham, North Carolina.
After the war, James McCoy continued as Aide-de-Camp to General Sherman. On March 2, 1867 he was promoted to Lieutenant Colonel, an assignment he continued until his death on May 29, 1875.
Lt. Col. James McCoy died in Washington, D. C. and his funeral service was held at Trinity Church in Columbus, Ohio. General of the Army, William T. Sherman and his staff attended the service on June 1, 1875. McCoy was bestowed with full military honors at his burial at Greenlawn Cemetery, in the family plot (Section O, Lot 15, Grave 12).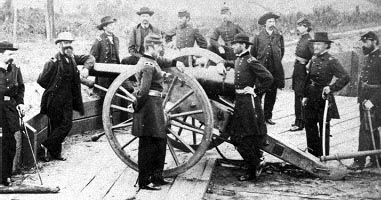 Sherman at Atlanta
J. C. McCoy is at far right